Mr. Hori (Representative Director) elaborated some actions and  events of the day in a column. Please have a look and  enjoy!
————————————————
I boarded the Super Hitachi Express train at Ueno station in Tokyo, bound for Mito. Ride the train for about an hour and the Kairakuen garden comes into view on the left and Sakurayama hill and Senba Lake on the right. I always enjoy this view from the train as I turn my head to the left and right. Then the train glides into Mito Station, where I get off. I return to my hometown of Mito at least once a year, and each time I go through this routine I feel a sense of excitement.
The purpose of this visit was to host KIBOW Mito and give a lecture the following day at the Junior Chamber International Mito's 60th Anniversary Seminar.
This year's KIBOW Mito is the third installment. The first took place on March 25, 2011, two weeks after the Great East Japan Earthquake. The Joban Line was still down then, so I made my way to Mito by highway bus. The second was held last fall, at which we had presentations on "What we need to do to make Mito better." We had 10 groups present their ideas. And this year, with the KIBOW operation entering its third round, we held a contest entitled "Nanisuppe (what will we do with) two million yen?" to decide how the city would use the donations it had collected.
The idea for this contest first came up when the representative for a Mito non-profit organization called Water Doors (literal translation of Mito) came to Tokyo to ask me to donate one million yen because he wanted to start a velotaxi (pedal-driven taxi) business. I hesitated, wondering whether I had the right to singlehandedly decide the use of these precious funds that people had donated to KIBOW.
So I offered a proposal in return. "We're committed to donating five million yen to Mito. Why don't we have everyone think of and decide on how they would use it?" And that is what gave birth to this contest.
Incidentally, we decided to donate only to communities where we had held KIBOW. Other than Mito, this includes the cities of Iwaki, Sendai (including Ishinomaki), Morioka (including Tono and Otsuchi) and Fukushima. We had already donated over 10 million yen to Yamamoto, another town where we had held KIBOW, to be used for education. We held the event in Hachinohe as well, but after seeing the state of damage there, we haven't committed ourselves to donating yet. (People of Hachinohe: Please accept my apologies.)
KIBOW's basic policy is to "donate to individuals and organizations that are working hard." The government has spent several trillion yen, and our money is much less in comparison. But KIBOW intends to support people who love their community from the bottom of their heart and who have the spirit to start grassroots action of some kind. I believe that the KIBOW operations might actually prove to be a greater supportive power for changing a community.
"Nanisuppe two million yen?" is a contest in which participants compete for what the two million yen donated to KIBOW would be used for. Presenters of seven groups narrowed down through preliminary application screenings give five-minute presentations on their ideas. All participants at the venue act as judges. Everyone votes, and the top idea wins one million yen, second 500,000 yen, third 300,000 yen, and fourth and fifth 100,000 yen each.
I arrived at the venue 30 minutes before the start time, yet over half the seats were already full and people were lined up at the reception desk. This was inconceivable at past KIBOW events. I prepared myself by putting on a KIBOW t-shirt, our brand-new KIBOW badge and a KIBOW cap. I gave my opening speech in an energy-filled venue with people standing in the aisles, and the presentations began.
The first presentation was the Theater-ize Mito Project, proposed by a man and woman duo. The woman, a theater actress, made her appeal from the bottom of her heart. "The cinema and theater hall on the north side of Mito Station closed, so Mito now needs a theater. With one million yen we would first rent a theater and present dramas and movies. And we would eventually create a theater in Mito. We want to make Mito into a cultural center!" Their passionate presentation touched my heart and it was nice to hear their Mito accents. A question session followed.
The second presenter was a 66-year-old man. "I had to coax my 66-year-old body into coming here today," was how he began, followed by a presentation on the Mito Castle Restoration Project. "I want to reconstruct Mito Castle here in Mito," he said. "The place to do it would be on the ruins of the City Hall."
KIBOW Mito had started to gain momentum. The third presentation was the Mito Sakuragawa 1,000 Sakura Trees Project. A teacher and students took to the podium to the music of Mozart and asked for the volume to be turned up. Everyone was particular about details and serious about the competition. Uniformed high school students made their case into the microphone. Almost all the presenters also used a PowerPoint presentation to illustrate their points. They had just five minutes and they were urgent to get their message across. "Sakamoto Ryoma said, 'Imaichido Nippon wo sentaku shitaku sourou. (I want to scrub Japan clean once again.)' Imaichido was a notion he had learned from Mitogaku. We want to plant 1,000 sakura cherry blossom trees over a section of Sakuragawa built by Mitsukuni, the father of Mitogaku." It seems that one section of Sakuragawa is desolate, almost like wasteland, and that was where they wanted to plant the cherry blossom trees. They presented their last slide. "Let's begin, so that we can pass this on to the future. You are the leading figure in the history of Mito." Afterward they took questions.
After these memorable words, the fourth presentation began. The event was moving along rhythmically in five-minute presentations with two minutes of questions. We now had Historical Tourism – Mito-han kagoya de "hoisassa," a presentation about a kagoya (palanquin taxi) that would not only pick up tourists but would also run into a samurai and hold a staged swordfight (although the act was done alone in this presentation). He admitted that it was a kagoya rather than a velotaxi because this was Mito.
The fifth presenter was Mito Curry Battle: Ibaraki KIZUNA Project. On stage was the person who last year on this very stage proposed the MITO-con. He has done as he said he would; he has already hosted four machicon (town matchmaking party) events that attracted a total of 10,000 participants. He says that MITO-con turned out to be the largest-scale machicon in Japan. Two thousand single men and the same number of single women took part and the event ultimately involved the entire city of Mito. Multiple couples have formed and there have been some marriages. The ripple created from KIBOW grew into a wave and caused a major change in society.
This project was to make Mito synonymous with curry, as Utsunomiya is with gyoza (Chinese dumplings). "Mito is the fourth largest consumer of curry in Japan. If each citizen eats 100 grams more, Mito will be number one. Let's all eat curry and make Mito the city of curry," he appealed.
There were two more. The sixth presentation was Rediscovering Mito: The Velotaxi Project, by the Water Doors NPO. The members said that they had just come from a volunteer activity to clean up Senba Lake. This was wonderful to hear!
A vast park spans the area from Senba Lake to Sakurayama and Kairakuen. They say that Mito has the second largest urban park in the world. Number one is New York's Central Park. I wonder though if Mito can ever compare to New York.
"A velotaxi costs one million yen. We hope to use velotaxis to reignite tourism in Mito," a member said. Staff members wearing identical windbreakers occupied the seats.
The order of the presentations was decided according to the number of Likes the groups had received on Facebook. All groups had to compete in advance by launching a Facebook page. The battle had already started before the event. And now the last group was up – the New Ibaraki Hero Project. The group had the greatest number of Likes and chose to go last.
Out came twin "heroes," who said: "We're performing as Soran dragons, but we want to create a new hero for Ibaraki. The hero costume costs one million yen." The project, they said, was "to provide dreams to the children of Ibaraki and Mito." The last "hero" that came out was a former preschool teacher. I felt his passionate drive to "spread hero education from Mito, the city of education."
And that concluded the presentations. Now came the difficult decision of which to vote for. Each group had unique ideas and communicated its heartfelt passion to make Mito better through grassroots action. I was thrilled to see who would take the one million yen.
KIBOW Mito went into its exchange session. Chairs in the venue were moved to the walls to set up a large exchange space in the middle. The fee was set quite low at 1,500 yen, yet the venue offered a drink and a simple, hot-dog-type of snack. This was too small for me, so I decided to have a Hakucho Puff that was made in the shape of the swans at Senba Lake. This Kobun Cafe by Senba Lake that we were in had glass walls that offered a view of the lake. I recall often playing with the swans. Here's the Hakucho Puff with my caramel latte: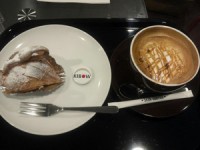 Here at the exchange session, presenters wore shoulder sashes and glittering decorations in order to stand out, and interacted with participants/judges, answering their questions. Each participant would vote for two groups. Since many would have likely been involved in a group's project, everyone had to put in a second vote to make things fair.
We returned all the seats to their original positions as the exchange continued, and sat down to wait for the results. This was the thrilling moment. And now the announcements began, starting with fifth place. Atsushi Kawasaki, the emcee, entered.
These were the results. Fifth place: The Kagoya hoisassa. Congratulations! You get 100,000 yen. They said they would use it to build the kago.
Fourth place was the Theater-ize Mito Project. Congratulations! You also get 100,000 yen. The actress and theater producer came up and expressed their joy.
Third place: Velotaxi. You get 300,000 yen. Congratulations! The group looked a little disappointed because they were hoping to win and get the one million yen, but they pulled themselves together and said they would buy a used velotaxi to get the business started.
Second place was, surprisingly, the Curry Project. 500,000 yen! Mito will now be a curry city. They said they would use the money with care. Probably owing to the group's accomplishments with machicon, people seemed to be looking forward to a new project. "Let's all eat curry!" they urged the crowd.
And now, to announce the winner. The three teams that had not received an award were on edge of their seats. The winner was the Mito Sakuragawa 1,000 Sakura Trees Project! The presenting schoolteacher looked up toward the skies. It was a landslide victory. The students and teacher are in front of me right now, showing their excitement and joy, and they're getting a huge round of applause.
"All of you who voted for us share this responsibility as well," they said. "To make this project happen, we need the approval of the national, prefectural and Mito governments that manage the river. We want your power to move them. Let's all realize this project of planting sakura trees along the Sakuragawa."
Congratulations! You get one million yen! This will make Mito a city of sakura trees. We already have the Kairakuen plum blossoms and now we'll be planting cherry blossoms along all the banks of the Sakuragawa. Keep going, and make Mito the best you can. I'll be looking forward to your efforts!
With KIBOW's help, people will plant a great many sakura trees along Sakuragawa. A velotaxi and a kago will ply the streets, and a new theater will open. And Mito will become a city known for curry, and will see the rise of heroes. It might even start reconstructing Mito Castle. History begins today. I think everyone here had that feeling.
The five judges each gave their comments at the end and there were 10 total votes. Participants each put in two votes – that's five times more votes. I offered my comments and closing remarks at the very end.
"Let's all believe in our potential and take the next steps forward. Get many people involved, and team up with supporters to collaborate as needed and then move ahead together. Some people say that nothing changed after the earthquake. I don't agree. Mito has clearly changed. The second KIBOW Mito led to the city starting a fashion show (to be held on October 28 after setting up a designated pedestrian-only zone), and the city now hosts a machicon that has grown to become the nation's largest. And Mito will continue to change. Let's take the next steps together."
I closed with these words and KIBOW Mito ended on an emotional note.
Last of all was photo time with all the participants. KIBOW Mito ended successfully with a great sense of excitement. Look at all the happy faces.