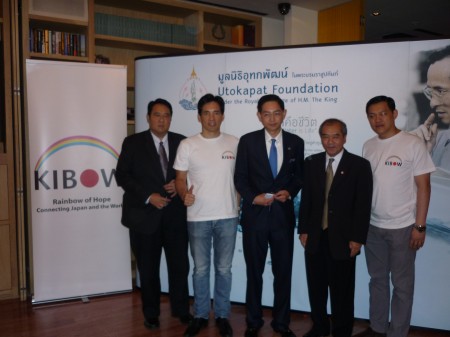 KIBOW Bangkok, May 30th – post-event report
The KIBOW Bangkok event was successfully held on May 30th 2012.
The event was realized in collaboration with the Utokapat Foundation (Thailand), and gathered together a total of 60 people, including Professor Yoko Ishikura of Keio University Tokyo, various Thai business executives, Japanese ex-pats in Thailand, and local NPO professionals. The generous donations received from the event participants will be used to support recovery from flood damages in Thailand.
KIBOW Bangkok provided an ideal opportunity for mingling and passionate discussions between Thai and Japanese participants. The KIBOW Foundation aims to encourage positive and forward-looking attitudes and build a community of like-minded people who are willing to take actions for the better future. In line with this objective, we were able to work hand-in-hand with our Thai friends to realize our very first overseas event with much success.
We would like to express heartfelt thanks to all the people who attend the event!