KIBOW was featured in the book "Selfless Management, Japanese-Style". Please enjoy the translation!
By courtesy of Kobunsha
Buy at amazon
——————————————————————————————
Many Japanese companies were widely praised at home and abroad for stepping up on their own to help after the earthquake of March 11, 2011. Yamato Holdings, a transportation and delivery company, donated a total of 14 billion yen, 10 yen per package that it carried. Fujifilm helped victims preserve their memories by cleaning tsunami-damaged photographs. Fujitsu used its cloud technology to connect NPOs with the disaster area. Toho Bank allowed customers to withdraw their funds quickly even if they lacked ID. Michinori Holdings bussed residents to its hotels, which it allowed them to use as shelters. And the list goes on. These efforts were a combination of voluntary, self-directed activities at the working level and quick decision-making by top managers. How was this possible? We would like to thank the publisher, Kobunsha Co., Ltd., for generously allowing us to translate into English this excerpt from Chapter 7, "KIBOW Project" of Selfless Management, Japanese-Style (Yoshihiko Takubo, GLOBIS University), a description of the activities of seven companies, from major firms to local businesses, on the ground in the aftermath of the quake.
Chapter 7:  KIBOW: A Foundation Creates a Bridge to Hope
"KIBOW" is one of the reconstruction assistance projects that was set up in the aftermath of the Great East Japan Earthquake. It is the brainchild of a group of young entrepreneurs, business people and government leaders.
In addition to the usual communications and fundraising activities, the project emphasizes the creation of opportunities, occasions and connections. More than anything else, it believes that rebuilding will require chances for people to come together in a positive environment to provide mutual stimulation and support.
KIBOW held a number of networking events right after the earthquake, and its activities, while simple, earned it a write-up by the United Nations. Many people use those opportunities to take their first steps, and they are now active in a wide range of endeavors.
In this chapter, Yoshito Hori, the President of Graduate School of Management, GLOBIS University and founder of KIBOW, describes the organization's beginnings, and Kenji Suzuki, the President of 47PLANNING Co., Ltd., discusses how participating in KIBOW events enabled his company to expand and, one year after the earthquake, create a business that is about to go global.
The most important thing is to act
KIBOW was organized on March 14, just three days after the earthquake. It was an organic process. The organizers felt keenly that there were things that they could and should be doing, and as they made connections and exchanged opinions, the organization began to take form.
The initial meeting had been scheduled from before the earthquake, and was supposed to cover a completely different topic. As the sponsor, Hori decided it was better to focus on the issue at hand: what we can and should do in the aftermath of the quake. There was a great deal of discussion about whether the meeting should be held at all as the fate of the Fukushima reactors was still unknown, but Hori, understanding that action was more important than anything else, insisted it go forward.
Here is how Hori describes the situation:
"The people who attended spoke about how Japan's image had been damaged in the international media and the need for Japanese business people to communicate with the rest of the world. They also saw a need to solicit donations to raise the funding that would be required for the project, and to give people clear responsibilities. As the discussions continued, there emerged a consensus around the idea that there were limits to what any one person could do, but if we worked together, we might still be a very small existence facing the enormity of nature, but perhaps there was something that we could accomplish. We decided that our first step would be to create an organization to offer assistance."
Hope and rainbows: The origin of the name

The group almost immediately agreed that they wanted to use the word "kibo" ("hope") somewhere in the organization's name. In the course of discussion, they arrived at "KIBOW," a combination of "kibo" and the English word "rainbow." The name symbolizes both the cheerful, positive attitude of the organization and its desire to be a rainbow-like bridge that brings people together.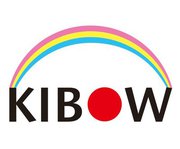 The KIBOW logo was finalized at the same time as the name
As the name was finalized, so was the logo. The group decided to use the "O" in "KIBOW" to depict the "Rising Sun" symbol of Japan, and to place a rainbow above it. By the next day, KIBOW's principles had been finalized and materials had been created for the press.
Hori sought out cofounders as he informed friends in the business, government and academic communities about KIBOW's launch. On March 14, he opened a bank account to be used to transfer donations over the Internet.
KIBOW produced both Japanese and English versions of its information and sent them, together with an explanation of circumstances in Japan, in the form of fourteen different electronic mails to more than 3,500 friends around the world that had been encountered at international business conferences and other venues. Hori's mails caused an immediate reaction and brought coverage from numerous international media.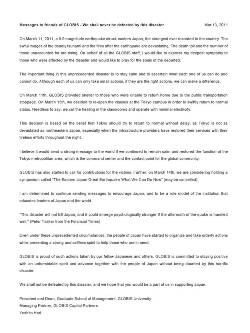 The first "Email from Japan" that Hori sent around the world
"There was a constant demand for information from overseas. We wanted to communicate with as many people as possible and do whatever we could for Tohoku as quickly as we could."
In no time at all, a group had come together as founders in support of KIBOW's principles. Hori was named its representative, and he was joined by Daigo Sato, Representative Director at NPO Charity Platform; Takao Ozawa, Director at NPO Civic Force; Hideaki Inoue, CEO of Park Corporation; Takaaki Umezawa, Partner and Managing Director, Japan, A.T. Kearney, Inc.; Yu Yumoto, Representative Director at JustGiving Japan Foundation; Hiroshi Mikitani, Chairman and CEO at Rakuten, Inc.; Maiko Tajima of the United Nations World Food Programme; and Kiyoshi Nishikawa, CEO of NETAGE, Inc.
United in support
KIBOW held a series of meetings that served as opportunities to simultaneously fundraise and communicate information overseas.
Just two weeks after the earthquake, on March 25, it had its first meeting in the disaster area, "KIBOW Mito," in Mito, Ibaraki. The Joban train line from Tokyo was still not running and there was little gasoline available, so Hori and his staff took buses to the city. KIBOW meetings continued to be held thereafter at a pace of about once a month, moving from south to north across the Tohoku region.
KIBOW meetings in principle avoid large hotels and famous restaurants, preferring instead to patronize local owner-operated establishments. Part of the reason for this is to create an atmosphere where everyone feels comfortable speaking with everyone else, and also to try to give a boost to the local economy.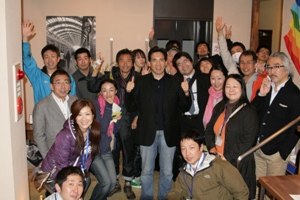 Members of KIBOW Iwaki, held on April 12, just after the earthquake. Hori is in the middle.
Participants are seated at tables of five or six, where they enjoy a light meal and conversation. The ultimate objective of the discussion is for each individual to come away with clear ideas on two subjects: what the participant is doing "right now," and what, including dreams and plans, he or she will be doing "from now on."
At the end of the discussions there is time set aside for people to present their ideas and ambitions to the entire meeting if they wish. During the discussions, participants exchange business cards and work to broaden and deepen networks across the entire hall.
Most of the participants are from the local community, but others arrive from both inside and outside the disaster area. There are usually around 100 in total. They come from all walks of life: business people, fishermen, farmers, public employees, legislators, teachers, lawyers, volunteers, actors, housewives.
Anyone can become a supporter and collaborator for the ideas and ambitions of anyone else. KIBOW meetings provide a starting point from which human networks expand as participants realize that they know "somebody who would be just right" for a particular task. In most cases, those tasks get done.
As connections grow among such a varied group of people, the hall begins to take on its own unique kind of enthusiasm. There is the joy of meeting up with someone who shares the same perception of the issues, the surprise at learning of the activities of other people in the same community, the excitement of realizing what one needs to do in a conversation with someone who has a completely different point of view, the sheer fun of watching one's world expand in just a few hours. It is almost like a chemical reaction.
Many first-time participants attend KIBOW meetings at the urgings of an acquaintance, but by the time they are done, virtually all agree that it was worth coming, they feel invigorated, and they met some great people.
KIBOW's value is in meeting people with shared aspirations

Hori describes the significance of meetings for ambitious people who share the goal of rebuilding Tohoku:
"Up to this point, when we have talked about 'social contribution,' it has been mostly in the form of donating money or transporting goods or providing labor. But there are professionals who understand how to provide this kind of support, and it is best left up to them. There were many offers of help from overseas too. My idea was that it was important to make an ongoing effort to build human networks by using people's ideas as the impetus for developing new skills. And once we do that, then we are in a position to furnish whatever it is we are best at. The value of KIBOW is in providing these opportunities.
That value may be difficult for someone on the outside to understand. Does KIBOW provide funding? Does it accept volunteers? Does it hand out supplies? There are undoubtedly all sorts of questions. But that is not what we're about. Our goal is to provide an opportunity for ambitious people to come together, discuss their ideas, decide what they want to do and give each other energy. That is the true value of KIBOW."
Hori's description is backed up by the many people who travel considerable distances to attend KIBOW meetings. Indeed, as this was being written in July 2012, meetings were on their second round of the region because of the many requests to hold another in the same city.
In Ishinomaki, a collaboration among like-minded people at Ishinomaki 2.0, ReIshinomaki, Ishinomaki Laboratory, Ishinomaki Furusato-Fukko-Kyogikai and Five Bridge led to the creation of the "Irori Ishinomaki" business café.
In conjunction with KIBOW meetings, Hori has visited most of the cities and towns along the disaster-stricken coastline, including Mito, Iwaki, Hirono, Naraha, Tomioka, Iitate, Minami Soma, Fukushima, Yamamoto, Sendai, Tagajo, Ishinomaki, Minami Sanriku, Kesennuma, Rikuzen Takata, Ofunato, Kamaishi, Otsuchi, Miyako, Noda, Kuji, Morioka, Tono, Hachinohe and Yamagata.
"I think there were many people who looked at their television screens and saw scenes that they had never seen or experienced before. They wanted to do something, but did not know what to do. But you have to begin by doing whatever it is you can, so I went to local communities and met with as many people as I could, both to encourage them and to help develop connections among them.
For me, the best contribution I can make is, I think, the development of human resources, the development of people's skills. Clarifying what it is people want to do, and helping them to gain more sophisticated perceptions and ideas. And then finally, there is the creation of human networks so that people are able to achieve their ambitions and goals. That is the role that I thought I should play."
Hori's ideas resonated as people began to participate in KIBOW, taking the first step in achieving their ambitions.
A "market" for all regardless of age or gender
"I had no idea what was happening the day of the earthquake. My family home is about 80 years old, and there were forecasts that a major tsunami would strike Iwaki too. The phone lines were down, and I was sure that my father in Iwaki was dead."
As he saw pictures of the tsunami on television, Kenji Suzuki, the operator of Tokyo-based event planning and production company 47PLANNING Co., Ltd., found it impossible to stay calm. His father ran an ice-making company in Iwaki, and as he considered the likelihood of his father's death, he also realized that it would now make him the manager of two companies that had employees who were depending on him. He could not let them down. At the same time, he had no idea what he should do.
Luckily, his father was unharmed by the disaster, though the ice-making plant was destroyed by the tsunami. March was spent moving the office functions to Tokyo and fighting desperately to keep the company alive.
In April, Suzuki began using his own company's kitchen cars to provide meals in his hometown of Yotsukura, one of the disaster-afflicted communities. These activities made a strong impression on him.
"Meal services cost money. It was around 100,000 yen each time. We were able to provide 500 meals, but I knew that was not going to be very effective in rebuilding from the quake. Offers of help were pouring in from around the country and around the world, but I knew that they would also probably not be long-lived. There are limits to what assistance can accomplish on its own unless Tohoku itself stands up and works toward economic independence. Rebuilding is not a passive activity."
It was this take on the issues that drove Suzuki.
"If their lives have been saved and they have food to eat, business people want to do business — that's certainly the case with my father. After the disaster, I realized all over again just how many such people there are.
As I was pondering how to proceed, I recalled the success that Kochi Prefecture had seen with 'Hirome Ichiba.' It offers great food and is suitable to all, from children to the elderly. I felt there was potential in that kind of idea.
Certainly, some were of the opinion that people were not going to go to Iwaki even if you opened that kind of commercial facility. I, however, was confident that we could bring people out if we gathered things together in a single location and created a buzz. And not only that, I thought it would be a place where people could exchange new information and might be a way to reduce some of the negative image caused by the earthquake."
It was at that moment that the idea formed for "Yoake Ichiba" ("Sunrise Market"), which would gather local restaurants damaged in the disaster into a single location for reopening.
Participation in "KIBOW Iwaki"
It was right around the same time that a friend told Suzuki about "KIBOW Iwaki." His friend spoke so highly of it that Suzuki decided to go. Obviously, most of the people attending KIBOW Iwaki were residents of Iwaki itself, and that made it painfully obvious to Suzuki that Tokyo had become the center of his life. He knew no one in the hall and felt nervous and out of place.
Then it came time to open the floor up to speeches as KIBOW made its traditional call for people who had something to say. Suzuki plucked up his courage and raised his hand.
He told the more than 80 participants about his idea to gather the damaged restaurants into a single location, reopen them and build a community. Almost everyone who heard his presentation came up later to exchange business cards, and all of a sudden a human network was formed.
"I had confidence that I could help the disaster victims achieve economic independence with my ideas. If you believe in your idea, then I am adamant that you must act on it."
Once he made his presentation to KIBOW, there was no going back for Suzuki. It gave him the impetus he needed to move forward.
"When I visited just after the earthquake, I could not think of anything at all. The company that I was supposed to inherit was gone. Destroyed. There was nothing left of the offices. Where once there was concrete, there was now sand. It wasn't so much sadness that I felt as it was anger. It was just too hard to make sense of any of it. It had only been in the last year or so that my father's company had finally started to succeed, and I had begun to think that I could always return home if things didn't work out in Tokyo. That all disappeared in an instant.
However, I gradually came around to the idea that what happens happens and all you can do is move on. But I also felt that it would be a net negative for us to spend the next five years rebuilding just to bring things back to the way they were before the earthquake. 'Rebuilding' is meaningless. It has to be better than it was before. We cannot be satisfied just with sympathy and empathy: 'Oh, you poor people. You had an earthquake and tsunami.' I want us to be able to look back later and say that things have become as good as they are now precisely because we experienced the earthquake."
Confronting death
What drove Suzuki at KIBOW Iwaki were his desire for economic independence in the disaster area and the mission he felt to make Iwaki better than it was before the quake. Let's look at where that passion and ambition came from.
When he was at university, Suzuki had no clear idea about what he wanted to do. One of his friends had ambitions to work for an international institution, and together they visited Singapore, where Suzuki made the decision to study and earn a CPA. He was, however, unable to muster much passion for his studies and ended up instead taking a job at an event company where he had worked part-time as a student. Later he went independent and founded 47PLANNING.
He was feeling increasingly confident about his life. The company was doing well, he had become president, and the family's ice-making business was also starting to see success. And that is when the Great East Japan Earthquake struck.
"I had this vague plan for my life, but then this 'once in 1000 years' earthquake happened, and that experience taught me that there were no guarantees I would live the 80 years I thought I would. I could die at any moment, and time was slipping away.
Before the earthquake, I was probably working at about 70% of my capacity. Now I give it everything. I have absolutely no desire to let up. All I can think is that I have to do it now or it may never get done."
After the disaster, Suzuki had to confront the problem of death head-on, and in doing so he clarified his own desires and goals. He decided to work with the people of Tohoku to launch the "Yoake Ichiba" as a way to gather damaged Iwaki restaurants into a single location, helping to re-energize the economy and bring a new spirit of entrepreneurialism to the city.
Beginning with just two restaurants
The people he encountered at KIBOW Iwaki taught Suzuki the importance of human networks. He continued to actively seek out new acquaintances even after KIBOW Iwaki was finished. He would meet them, discuss his ideas, and expand his network, repeating the process over and over again until he finally came across a location for the venture.
With the site of Yoake Ichiba decided, Suzuki held a second meeting in July at the Chamber of Commerce and Industry in Yotsukura to explain the idea and recruit restaurants. The first meeting in April had attracted a large number of participants, but the second produced only two operators able to open in Yoake Ichiba. Over the space of three months, most had given up the idea of reopening altogether.
"To be honest, I was too late."
The experience taught Suzuki to focus on external communications and advertising rather than working-level issues, and it is something he put into practice when Yoake Ichiba opened.
"It doesn't matter how great your plan is, it's meaningless if people don't know about it. The people of Yotsukura might have waited a little longer had they known about our plans. It reinforced for me the fact that people can't make choices unless they have information. I realized that I had to get out and start talking with as many people as possible about Yoake Ichiba.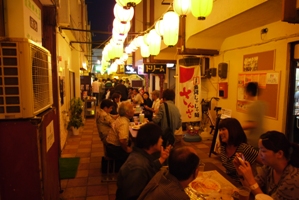 Yoake Ichiba attracts a big crowd
The restaurant owners encouraged me to spend more time at the site. But I understood that we had to increase awareness of Yoake Ichiba and attract a certain number of customers or the project would go nowhere. That was the job that I thought I was uniquely suited to doing."
Suzuki was caught between the need to deal with operational issues and the need for external communications, but there were people who shared his aspirations who were there to support him. Takeshi Matsumoto, an employee of 47PLANNING and Suzuki's classmate from middle and high school, was stationed full-time at Yoake Ichiba to handle the working-level arrangements.
Between the support of his friends and his own efforts, Suzuki began to change the atmosphere. Yoake Ichiba started to get coverage in the media. Of particular importance was a special program on the facility aired by a local television station. As name recognition grew, so did the number of restaurants, and Suzuki began to see something concrete emerge.
Having begun with just two, Iwaki Yoake Ichiba had nine restaurants by October 2012, completely filling the first floor. Some came from as far away as Morioka. Yoake Ichiba is now a vibrant facility, well on its way to growth.
Komeburger takes on reputational damage
No discussion of Suzuki's achievements would be complete without mentioning the Komeburger, a burger made from Fukushima rice. While progress has been made on rebuilding the family's ice business and getting Yoake Ichiba off the ground, serious damage had been done to the reputation of locally-grown food. Suzuki ran a restaurant called "47DINING Fukushima" in Suginami, Tokyo that specialized in traditional Fukushima-style cooking, and he too had been significantly hurt by the events.
The Komeburger was conceived as a way to increase consumption of local agricultural products, help farmers and fight back against reputational damage done to the region. It is made entirely from Fukushima rice and locally-grown foods.
"How can something so unreasonable happen? The farmers work hard to grow their crops. They're rigorously tested, and no radiation has been detected. But still, no one will buy them. I started a company called '47PLANNING' three years before the earthquake as a way to teach people about the great products that are available in the area.
Perhaps that's why I felt a strong mission to do something about the reputational damage. I just could not understand how something like this could be allowed to happen. What I came up with was the 'Komeburger,' made entirely from Fukushima rice."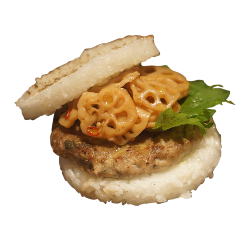 The Komeburger, made with local ingredients
Suzuki worked tirelessly, and his efforts started to attract supporters. In May 2012, the burgers were sold with much success at Kleenex Stadium Miyagi, and then new channels began to open up at movie theaters and other facilities. Well-known restaurants helped out as well. Today, Suzuki is contemplating taking the product international.
"We're going to create a Komeburger Fund in the United States. Each time you eat a Komeburger, a donation will be made directly to support Fukushima, giving people in the country an easy way to donate to the disaster area. It may also be possible to set up Komeburger plants in local communities and create jobs there. By taking this international rather than just staying in Japan, we'll help people in other countries to learn about Japan and give them another opportunity to encounter the good things that Japan has to offer. Ultimately, it will help to re-energize Japan itself. That's the kind of business I want to run."
What does KIBOW mean to Suzuki?
"KIBOW is where Kenji Suzuki began as an entrepreneur. Until I participated, I was just sort of going on with my life. Prior to the earthquake, I was satisfied that the company I was managing had begun to turn a profit, and I didn't really have any intention of taking on new challenges. More than anything else, the earthquake strengthened my resolve to focus on local redevelopment, something I had always been interested in, rather than just making money.
"No one else has tried something like Yoake Ichiba. It was only because of KIBOW Iwaki that I got a 'spark of an idea' that let me take the first step forward and open up a path. I put everything I have into it because I want the KIBOW participants to be pleased with the job I am doing and happy that I have opened Yoake Ichiba."
Suzuki continues to attend KIBOW meetings in other locations.
"The great thing about KIBOW is that it is a mixture of people who have yet to take action and people who are already acting. There are people who are successful at their companies, and people who are not. KIBOW is an opportunity for all sorts of people to interact and create something new.
"Had I not attended KIBOW Iwaki, this probably would have ended as just another idea in my head. I hope that KIBOW will continue to be an opportunity for people like me who want to start something to take their first step."
Suzuki has begun to create new opportunities across the Tohoku region by networking together KIBOW meeting locations so that even more people have that chance to take that first step.
And the list goes on
It is not just Suzuki. Many other people have found participation in KIBOW to be the impetus they need to take action.
Minoru Nagase runs a publishing company in Morioka and has participated in almost every KIBOW meeting since it came to his city.
"Even if it is somewhere I have never been before, I can attend the local KIBOW meeting and develop connections by sharing ideas with the people who are working so hard in their communities. I think that's one of the great things about KIBOW."
Nagase edits the Morioka Keizai Shimbun, a local business newspaper that he publishes on the Internet, but he did not think there was enough coverage of the rebuilding efforts in the Sanriku coastal areas of Iwate, one of the hardest hit parts of the disaster area, and so he launched a new Sanriku Keizai Shimbun newspaper to communicate more detail about what is happening there.
"So many people have so much emotion tied up in the disaster area, which is why I think it is important to continue to provide unbiased news that will stimulate the imagination of readers."
Nagase continues to visit the disaster area often in his reporting.
Tomohiro Takei was employed by a company investing in new businesses in Sendai, Miyagi. After participating in KIBOW Sendai, he decided to go to KIBOW Fukushima and KIBOW Ishinomaki as well. In the process, Takei started a new incorporated association called "MAKOTO" to provide general business support in the disaster area, everything from creating new business ideas, to drawing up business plans, fund-raising and developing marketing channels. His work to support entrepreneurs in the disaster area has attracted large numbers of supporters.
With the connections he has made through KIBOW, Takei is now developing collaborative relationships with entrepreneurial networking organizations around the world. MAKOTO's range continues to expand, and it has articulated its core philosophy as, "It is our aspirations that give us power."
"We want to be like that strong blade of grass that pushes its way through the rubble and extends straight up towards the sky. We want to gather people of high ambition and aspiration to the disaster area and create an environment where it is easy for them to succeed."
Takei sees himself as a social entrepreneur.
Tenacity is the key
"The most important thing for rebuilding is to have people who are willing to keep going. That makes education — the development of people — crucial."
Hori is passionate about human resources development, and in April 2012 he opened the Sendai Campus of the Graduate School of Management, GLOBIS University. His goal is for the people who have gathered to KIBOW to be able to find lifelong partners and collaborators at the school and to become leaders in the resuscitation of Tohoku, and Japan as a whole.
Hori values tenacity. He does not believe that something like this should be a one-off. He wants it to continue on and on. Keeping KIBOW going will, he is confident, facilitate contacts, trigger opportunities and create jobs.
Hori himself has found encouragement and energy in the positive words and actions of the many people he has met through KIBOW.
"More than anything, I want to say how much I respect the courage, energy and spirit of the local leaders who have stood up in the aftermath of the earthquake. They have overcome so many difficulties to give their ideas form. That by itself is an extraordinary result. As we move forward, we need to take what they have done and turn it into a mechanism, into something visible that can continue. That, I think, is how we will contribute to society. I want to provide them with all the support and assistance I can, whenever they need it."
Opportunities for lateral connections
It is much harder to keep organizations and mechanisms going than it is to start them. A year and a half after the earthquake, those difficulties have begun to surface in assistance groups around the region. Nonetheless, the KIBOW project continues to be active. Each time a meeting is held, its reputation grows by word-of-mouth and more and more participants come in from other parts of the country.
From its inception, KIBOW has concentrated on providing opportunities for people to come together and make connections. There are many groups and organizations active in the disaster area, but it has been very difficult to develop collaboration among them. Outlying areas, in particular, have suffered from a lack of forums for people to talk about their ideas and connect with others. That is why so many projects have been launched but have failed to produce significant amounts of energy overall.
The same sort of thing often occurs within companies. As organizations become more rigid, it is vital that they have opportunities to sit down together and talk in a relaxed atmosphere. Providing such opportunities seems so simple but is in fact very difficult, something that the KIBOW experience reinforces.
KIBOW attracts so many entrepreneurs who are positive and ambitious about building a new future, even though it is difficult, because it has repeatedly shown its willingness to change according to the circumstances and continue to create new values. It has produced a sense of solidarity among positive-thinking people.
The Japanese word "kyojisei" is translated as "synchronicity" in English. It refers to the coincidental occurrence of several significant events or encounters. KIBOW uses the energy and ideas of its meetings to trigger synchronicity and create connections and encounters.
Local communities may change, but they continue to reflect the people who live there. KIBOW continues to bring them together and develop their abilities.

Yoshihiko Takubo
Dean, Graduate School of Management, GLOBIS University (Japanese) Executive Trustee, Educational Corporation of GLOBIS University
As Dean of the Japanese program at the Graduate School of Management, GLOBIS University and as Managing Director at the GLOBIS Management School, Mr. Yoshihiko Takubo is currently involved in project planning, management, research, and development of study materials. Mr. Takubo also serves as a lecturer for the Analytical Skill Courses and the Leadership Development Courses at the Graduate School of Management, GLOBIS University, the GLOBIS Management School and corporate training seminars. In 2012 he also served as Vice Chairman of the Committee on Educational Issues at the Japan Association of Corporate Executives. Mr. Takubo has written Communicating Through Numbers, Lay The Groundwork For Your Business andGLOBIS MBA Critical Communication (all published by Diamond, Inc.). He also co-translatedCultivate your Kokorozashi (Toyo Keizai Inc.), The Grand Design for the New Century (Nihon Keizai Shimbun Inc.) and The Environment and Business: A Complete Forecast (Nihon Keizai Shimbun Inc.). The Japanese publication of Mandela's Way: Fifteen Lessons on Life, Love, and Courage (Eiji Press) was translated under his supervision.
Prior to joining GLOBIS, Mr. Takubo worked at the Mitsubishi Research Institute, Inc., where he was engaged in investigation, research, and consulting services mainly for the energy industry and government ministries (the Ministry of Economy, Trade & Industry, the Ministry of Education, Culture, Sports, Science & Technology, and others).
Mr. Takubo received his undergraduate and graduate degrees in Science and Technology from Keio University. He subsequently enrolled in the PED (Program for Executive Development) course at IMD (International Institute for Management Development) in Switzerland.